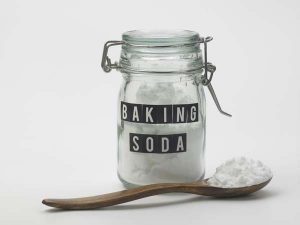 Ok, we'll start with the one most people know about: the humble but mighty baking soda. Sodium Bicarbonate – NaHCO3 – is technically a salt and found in nature, dissolved in many mineral water springs. It's a mild disinfectant, and can be a good fungicide too. But we're interested in what it can get clean!
In water, baking soda forms a strong alkaline solution. In most cases, it's recommended to use either a paste made from baking soda and a little cold water (using hot water can make it more corrosive than you want), or a solution made using a few teaspoons in a bowl of water.
Steel
If you have rust spots on iron or steel items, smear baking soda paste over the surface of the metal, leave for a few minutes, gently rub and then rinse and dry. The alkaline solution forms a water-soluble compound with the rust, meaning it can be washed away. Make sure you thoroughly dry the metal afterwards, or the rust will be back!
Note: make sure the items you're cleaning aren't aluminium; baking soda paste can remove the layer of aluminium oxide that forms naturally and protects aluminium surfaces. Generally, if the item sticks to magnets, it isn't made from aluminium. Just check it doesn't have aluminium parts.
Silver
If you have silver items that are tarnished, use a hot water solution and some aluminium foil (yes, you want aluminium for this one!). Line the bottom of a small heat-proof bowl with aluminium foil and place your silver items on top of the foil. Boil half a litre (about a pint) of water, pour into a jug and place in a sink. Add and dissolve 2 tablespoons (35ml) of baking soda – it may froth up and spill over the sides of the jug, hence placing in the sink. Pour this solution carefully (rubber gloves are advised) into the bowl with the foil and silver items, ensuring that the silver items are immersed. If the silver items are only lightly tarnished, one treatment leaving them in the solution for a few minutes should be enough. If they're heavily tarnished, you might need to repeat the process one or more times.
This process is one of the least corrosive ways to polish silver. Rubbing polish or using dip treatments actually removes some of the silver when it takes the silver sulphide (which is the dark tarnish) away. In the aluminium+baking soda trick, the aluminium foil is actually taking on the sulphur ions, forming aluminium sulphide, and turning the tarnished silver back to pure silver!
Laundry
Adding 4 tbsp (70ml) of baking soda straight into the drum of your washing machine before you add your clothes should reduce the amount of detergent you need. It will help to regulate the pH of the water in the machine, and also works effectively to break down the bacteria in fabrics that cause odours. Added to that, the baking soda can prevent detergent residue from clinging to the garments being washed, meaning they should feel softer once dried. How good is that?
Irons
If your iron has built up scorch-marks over time, you'll know they're very difficult to remove. Well, guess what? Our trusty baking soda paste can help to make that easy. Make sure the iron is completely cool before you start. Use a white cloth to rub a baking soda paste over the plate of the iron, leave for a few minutes and scrub gently to clean. Repeat if necessary. Once it's clean, polish it up with some white vinegar on another cloth.